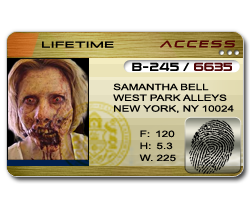 Lifetime Premium Package
This lifetime premium package permanently upgrades your account status from "free" to "Premium". Upgrading your account to Premium helps us support and improve the game. Premium users also enjoy additional benefits including:
Support Quarantine - Every dollar counts! We appreciate each and every donation and premium purchase. You keep Quarantine running strong!
Custom Kill Taunt - Give your enemies a little something to remember as they see your tag line every time you kill them.
Meta Invite - Invite your group members from anywhere in the city.
No Ads - All ads in-game and on the main Quarantine site are disabled.
Unlimited Visits - The in-game daily visit limit is removed for premium users.
Gamestore Discount - Premium users get a 25% discount in the upcoming 'gamestore' that will feature in-game items and services.